Referee Development Academy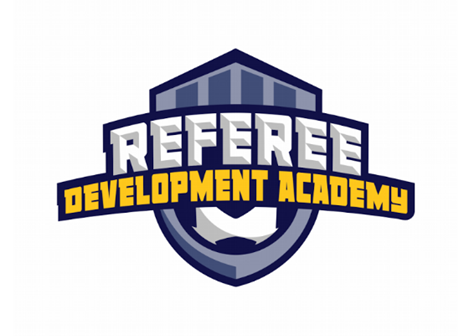 We would all agree that soccer is growing very fast both in numbers and in the quality of play. As more clubs develop more elite teams, the need for Referees experienced in managing higher-level matches is also growing exponentially. The challenge for the Heartland ecosystem is how to accelerate the development of Referees to manage these higher-level matches.
The Referee Development Academy is a Heartland Tournament offering for select, high-potential Referees that has the mission of providing advanced "situational" training and skills development in the high stake Tournament environment to prepare high potential Referees for advanced assignments at Heartland Soccer events.
The Referee Development Academy is staffed with Senior-level Referee Mentors who will watch selected matches and then spend time with the Referee team in follow up meetings where the focus will be "connecting the dots" and other advanced topics. This offering is an "invitation" only offering at this time, and is being used to accelerate Referee performance and develop future Mentors.
Meet Our Referee Development Academy Staff
Kyle Atkins – Referee Academy Director
Email: [email protected]
Kyle is a Heartland success story. He began his Referee career at Heartland in 2001. He has demonstrated skills and commitment to improvement which have resulted in his earning multiple upgrades (from Grade 8 to State Referee Grade 5 and most recently to a Professional Referee in January, 2015). Kyle has been awarded assignments in multiple Adult and Youth international competitions as well as Intercollegiate competitions. Kyle has been a Field Marshall and a Referee Mentor for the Heartland Soccer Association since 2011.
Emily Fletcher – Referee Development Program and Academy Coordinator
Email: [email protected]
Emily is another our many Heartland success stories. She started her career as a player and began her Referee career in 2007. She set high goals for herself and worked hard to be more successful every year. In 2010 Emily was selected as the Kansas Young Referee of the Year. In 2011 she qualified for the State Referee upgrade. Since then she has been selected for assignments at the Dallas Cup, US Youth President's Cup Regionals and National Championships, and US Youth Regionals and National Championships. She is a certified Intercollegiate Referee and has worked both International and Professional matches. She has been a Field Marshall and a Mentor at the Heartland Soccer Association for multiple years.
Ellen O'Leary – Tournament Mentoring Coordinator
Email: [email protected]
Ellen first certified as a USSF Referee in 1998. She has set and achieved many goals as a USSF Referee certified in Kansas. In 2013 Ellen earned her upgrade to the State Referee Grade. She has been selected to attend a number of prestigious events hosted by the USSF including Adult Regional and National tournaments, the National Women's Championship, and US Youth Regionals and National Championship tournaments. Ellen is certified for Futsal, KSHAA and Intercollegiate matches. She is a Certified State Instructor and Assessor and a member of the Kansas State Referee Committee (State Director of Mentoring). Ellen has been involved with the Heartland Soccer Association Referee Development Program since the program's initial season in 2013.