Expectations for Referees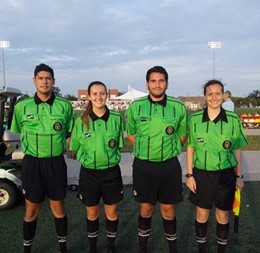 Dress Appropriately and Professionally
Give your best effort (Hustle)
Work as hard as the players
Be in an effective position
Make sure the game is SAFE and FAIR
Know the Rules (Call Fouls)
Have FUN!
Let the Field Marshall or Referee Assignor know if:

You are having trouble with the coaches
You have questions about league rules
If the level is too easy or too difficult for you
Be Prepared – the Reality of Refereeing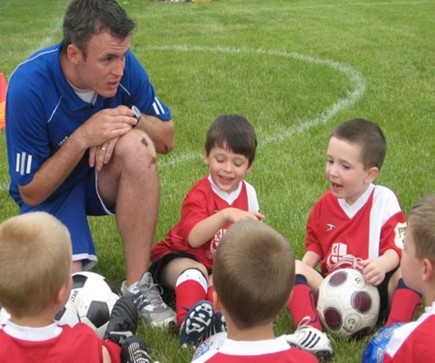 You will make many correct calls
You will also make some mistakes
You will get yelled at
It isn't always your fault
When dealing with Coaches:

Be polite and respectful
Use ASK, TELL, DISMISS
We will support you 100%
Coaches Responsibility to Officials
Coaches should not approach officials after the game to discuss calls.
Coaches shall not offer dissent to any call made by the referee(s) at any time.
Coaches are not to address the Referee(s) during the game except to:

Respond to a referee who has initiated a conversation.
Point out emergency or safety issues. Make substitutions.
Ask the referee, "What is the proper restart (i.e. direction and Indirect Free Kick or Direct Free Kick)"?
Ask for the time remaining in the half.
Parents Code of Conduct
We will only give positive feedback to players.
We will cheer at all games within the spirit of fair play and shall do our best to cheer the effort regardless of the outcome.
We shall show the quality of our sportsmanship during and after each and every match and help our child to remember to thank the referee after the match without regard to the result.
We shall do our very best to have our child prepared for every match.
We recognize many of the referees are young and are learning to referee. We agree to support their learning efforts as we do youth players.
We shall support the learning effort of both players and the referees by demonstrating our patience.
We understand that improper behavior at a match; both league and tournaments may result in a parent being asked to leave the field or the event by a referee, field marshal or HSA Staff.
We shall leave the coaching to the coach during match. We shall do our best not to give our child instructions during the match.
We understand that (upon review) the HSA can, and will if necessary, suspend our individual privilege to watch our child play should we behave in a manner that is rude or otherwise offensive.
We agree to do our best to have as much fun watching the game, as the players should have playing the game.