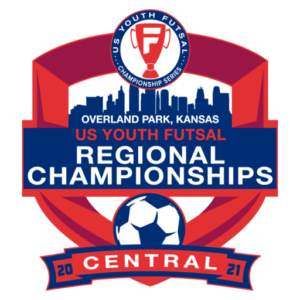 Registration Deadline:
December 21, 2021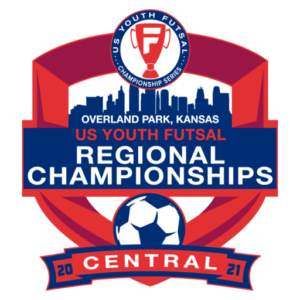 Dates
January 14 – 16, 2022
Age Groups
Boys and Girls U9 – U19
Location
Overland Park, KS
Facilities

Johnson County Community College
SportPlex Olathe
Mid-America West Complex
Roeland Park

Game Minimum
3
Awards

Champion Team Trophy
Champions and Finalist medals

Qualifiers
USYF National Championship July 9-12, 2021
Fees

$625

Player Fee

$13.50 if not already registered with USYF
Central Regional Championships
Qualifiers For The 2022 U.S. Youth Futsal Nationals
Heartland Futsal is proud to have been chosen by United States Youth Futsal to host the USYF Central Regional Championships.
There are 12 USYF Regionals across the country, providing top level Futsal teams from surrounding states to compete for the title of Regional Champion and an opportunity to qualify for the USYF National Championship, July 8 – 11, 2022
Selection as a host of a USYF Regional indicates that Heartland Futsal has superior facilities, experienced referees, organizational experience and a trusted reputation that draws top teams to their Regional.
Tournament Information
Questions
If you have questions please contact Betsy at [email protected].
Online Check In (Deadline - Wednesday, at Midnight prior to tournament start date)
Please note: All teams must check in online.
The Regionals Tournament Tournament will be using online Team Check-In (OCI) Teams will upload all documents at the HTG Sports site. Once you have completed this, you will just need to present your player cards at the field prior to each game. There is no in person check in. Please note that all teams are responsible for ensuring that completed medical release forms are always maintained and available for every player.
Required Documents
Official State Roster
Guest Player Permits (if applicable)
Travel Permit (if applicable)
All teams will submit their player cards to one of the match officials prior to the start of each game.
Following are the steps to complete the Online Team Check-In process:
Login at www.htgsports.net. If you have never logged in before, enter the email address used to register the team as the user ID and password. Do not look for the registration under the coach e-mail address
Click your name in the top right corner of the page, then the "My Sports" button.
In the "My Documents" section you can upload any of your documents (e.g. Official State Roster, Travel Permit (if applicable) & Guest Player Permit (if applicable).
Snap pictures of your check-in paperwork with your camera phone or scan them in on a copier in .pdf, .jpg or .png format
Click the Add Documents link in the middle of the page to upload all of your documents.
At the bottom of the page under the "My Teams" section you will see your team listed for the Regionals Tournament Tournament. Click on your team name to view the Team Detail page.
Click on each document name (Official Roster, guest permit, etc.) to move the document from the master list (left column) to the tournament document list (right column). Once the document is in the right hand column and ready to be submitted for review, select "Submitted" from the drop down menu.
Once your documents are submitted, we will review the paperwork. It will read "Submitted", "In Review", "Approved" or "Rejected." If necessary, we will notify you of documents that are not acceptable or any changes that need to be made.
Documents must be uploaded, not emailed to tournament staff. The deadline to complete this process is Midnight on Wednesday prior to tournament start date.