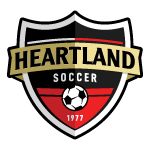 About Heartland
Heartland Soccer Association was formed in 1977 as the Johnson County Soccer League to promote youth soccer in Johnson County, Kansas. There were 600 players initially split geographically according to school districts with the Shawnee Mission School District split, due to its size.
The Kansas Premier Soccer League (KPSL) was established a few years later for players who were ready to expand to competitive soccer and in 1995, KPSL joined Johnson County Soccer as a member club and both the leagues became Heartland Soccer Association.
Today, Heartland Soccer Association is a nonprofit and educational youth soccer association and is recognized as one of the largest and most competitive youth soccer leagues in the United States.
The league accepts players of all skill levels including recreational and premier level players and teams. Each year over 170+ different soccer clubs compete through Heartland. Nearly 1,300+ teams and 21,000 plus youth from age 9 to 19 compete each league season and many age groups have up to 9 subdivisions with 9 or more teams playing in each subdivision. The sheer number of teams allow players and teams the opportunity to compete against similarly skilled teams at all ages.
In addition to league play, Heartland Soccer Association hosts nine exceptional tournaments each year. Our tournaments draw in more than 2,700+ teams and 43,000+ youth players, from over 16 states including Texas, Minnesota, Louisiana, Oklahoma, Nebraska, Iowa, South Dakota, Wisconsin, Colorado and Illinois, as well as Mexico and Canada.
In league and tournaments in addition to the players, there are 4,000 coaches and 1,700 referees each year who participate.
Our league and tournaments are held at the world class all turf soccer facilities of Scheels Overland Park Soccer Complex, Swope Soccer Village, Wyandotte Sporting Fields and the new Olathe Soccer Complex.
Play At Heartland
Participating in the Heartland Soccer league or tournaments is easy.  Teams of all skill levels are welcome for both recreational and competitive play.  Simply register online for an upcoming event. League and Tournament information can be found under the tabs on this website.
Founding Member Clubs make up the core of Heartland Soccer Association. Each club commits all teams both recreational and premier u9 and above to the league.