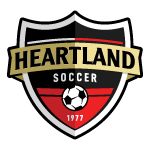 May 17, 2019
Heartland Soccer Teams, Coaches and Admins,
Thank you for being part of our soccer community and making Heartland the largest league in America.
As we enter our 43rdyear in soccer, we have several updates for the fall 2019 season.
All Games On Turf.  For the first season ever all games will be on turf at the

Scheels

Overland Park Soccer Complex, Sporting Wyandotte Fields, Swope Soccer Village and the new

Garmin

Olathe Soccer Complex.
Conflict Dates.  The number of conflict dates will be increased from 6 to 8.  When you register, it is important to account for any tournaments you will be attending or dates you need off.
Reschedule Fee.  There will be a $50 reschedule fee to paid by the team requesting a reschedule.   Over the past several seasons, reschedule requests have ballooned to over 1000+ per season.  Due to the rental cost of the new turf fields, it is imperative that all game slots are filled and used.  The only exception to the reschedule fee is if, by chance, you request a day off and our schedulers make a mistake and schedule you for a game.  There is no cost for the reschedule correction.  Weather related cancellations will be automatically rescheduled to the 'rainout weekend' which is designated for all weather related (as well as unplayable or unavailable fields ) reschedules.  There are no fees for these reschedules.   You can't request the 'rainout weekend' off for conflict dates.  If your game is rescheduled to the 'rainout weekend' and you wish to reschedule it, a fee will apply.   There are no exceptions so, as a courtesy, please do not ask the staff.
Fall League Registration.  Registration is now open at heartlandsoccer.net and closes at noon on June 28th.   Unfortunately, no late registrations will be accepted.
League Fees for the Fall 2019 Season for Independent and Non- Member League Teams
U9 – U10    $805
U11 – U12   $910
U13 – U19   $1100
Member Team Fees are determined by and collected by the individual clubs.
We look forward to seeing you at the fields in August.  Enjoy the summer.